Get the Right Fit: How to Measure Ring Size Correctly
Buying jewellery online can be a little nerve-racking, especially if you don't know your ring size. As you can't try on the pieces, finding out your perfect fit before you order is important. Luckily, it's much easier than you might think.
If you're wondering how to measure your ring size at home look no further. Our jewellery experts have three fail-safe measures for you, as well as a whole host of other ring sizing tips. This means you can order from 7879 with peace of mind, and you'll be able to wear your rings the minute they arrive!
What is 'the proper fit'?
Before we get into how to measure your ring size at home, it's important that you understand one thing first: the perfect fit does not exist. Our fingers change size with the weather, our diets, whether we've been working with our hands, and other conditions. This means the way your ring fits will change from day to day too.
That said, finding 'the proper fit' is completely possible. The proper fit means you should be able to take your ring on and off without too much of a struggle. However it should be snug enough that it won't slip off unnoticed. Essentially, you should be able to slide your ring over your knuckles with a small amount of force, but not have to reach for the baby oil.
Your ring should also fit without the rest of your finger bulging around it. It also shouldn't leave red marks or indentations when you take it off. Keep these things in mind and your rings should be both comfortable and secure enough for everyday wear.
Best practices for finding your size
Before we show you how to measure your ring size, we have a few pointers you should consider. For starters, it's important to measure your finger several times. As the size of your finger fluctuates, you'll want a happy medium between when it's at its smallest and when it's at its largest.
Measure yourself in the morning, the evening, and when you're feeling both hot and cold. This will give you the right idea of how your finger changes sizes.
Secondly, it's important to consider your knuckle size. Some people naturally have larger knuckles than others, and common conditions such as arthritis can also affect their size. If you're aware of any of these, order half a size bigger than what your finger measurement suggests. This allows you to slide your ring into the right place.
Measurement methods
With the following three techniques for measuring ring size, you can easily find your perfect fit at home. These methods mean you can start wearing your 7879 jewellery as soon as possible, whether you're opting for a classic gold ring or a statement platinum piece.
#1: Use string or floss to measure your finger
This common method is perfect for everyone, as you're bound to have either string or floss at home.
To start, you need to take a length of floss or string and wrap it around the base of your finger. You should then mark where the floss or string overlaps with a pen. From there, you simply need to stretch the length of string out along a ruler or tape measure, and record the length in millimetres.
Do note, however, that floss and string can stretch, so try not to pull them too taut when measuring. If you do, your ring may be bigger than you want it to be.
Once you have your measurement, you can use the standard ring size chart below. You need to compare your measurement with the inside circumference measurement. Ring sizes go up by around 2.4mm every two sizes. So, for example, our size F ring is 44.20mm, whilst the size H is 46.80mm.
To find out exactly how to measure your ring size in the UK, US or EU, consult this ring sizing chart.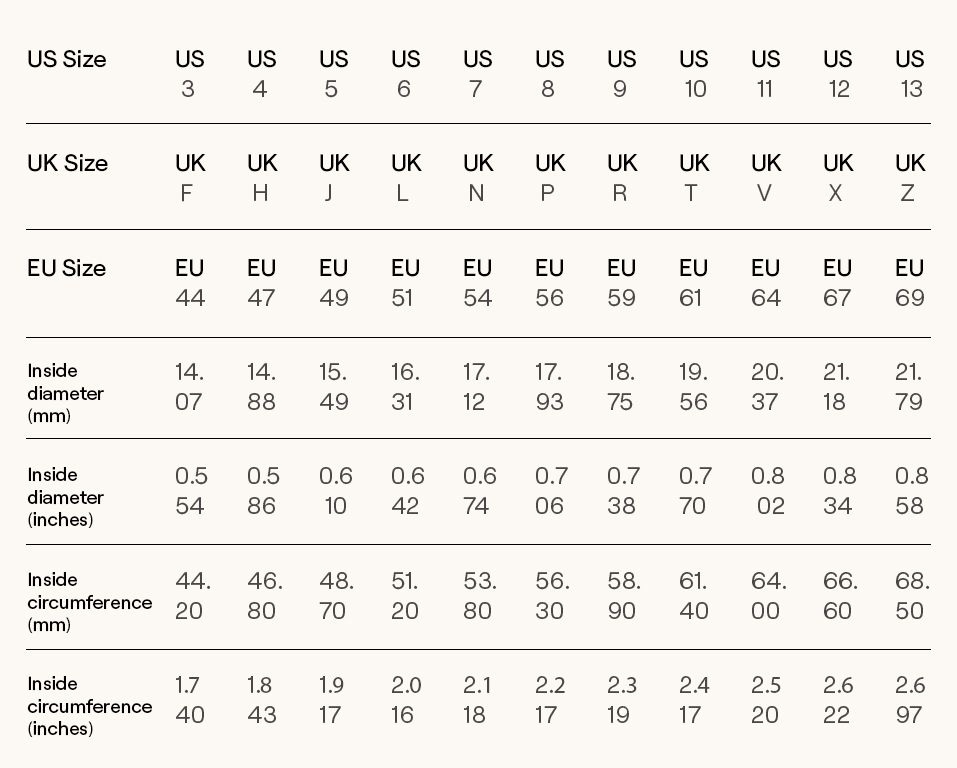 #2: Place a ring you already own on a ring size chart
If you already own a ring that fits you well, and you want to wear your new ring on the same finger, then measuring your ring size is even easier.
First you need to print out a true-to-size ring sizer, like our 7879 Ring Size Guide. A ring sizer is a series of circles, each corresponding to the different standard ring sizes. With this, you can simply place your ring on the circles until you find one that matches.
However, always remember that you should match the inside of your ring with the circles on the printout. If you measure against the outside of a ring, it will be too big for your finger.
#3: Buy your own ring sizer
For a small cost, you can buy your own ring-measurement tool. This method is extremely accurate - our experts actually recommend this as the best method.
Ring measurement tools come in two forms. The first looks like a small measuring tape with a plastic tab - a little like a cable tie. You can slide this on your finger and pull it as tight as comfortable. The plastic tab will show you which size ring you need.
Another ring sizing tool looks more like a keyring, with a series of metal or plastic rings attached to it. With this tool, you simply need to try on the rings until you find one that fits you
One bonus of buying a ring measurement tool is that you can use it time and time again, and you can measure friends and family for gifts too.
How to get professionally measured
If you'd rather leave it to the professionals, you can visit a jeweller to get your finger measured. Most high street and artisan jewellers will do this free of charge - though you might have to pretend to be interested in their pieces. If you're visiting a jeweller, you should also try rings of a similar style to ours. Whilst our designs are all unique, this is a useful way of checking whether the fit will look right on your hand. For instance, if you're looking at our popular signet rings, why not try similar ones at a store to see if the fit and design is right for you.
How to guess your partner's size
Measuring your own finger might be easy, but what if you want to buy a gift for a loved one or even a ring for a certain special proposal?
It's often suggested to consider the method above, using an existing ring of your partner's. However, as most people don't usually wear rings on their left ring finger until they are engaged, this isn't a foolproof method. Try talking to your significant other's family or friends, or measure the finger of a friend with similar stature. No matter what, always size up so the ring can fit on the receiver's finger in that special moment. Nothing kills a mood like trying to wedge a ring on or, worse if it doesn't even fit at all. Once you've gifted the ring, resizing is easy.
Getting your ring resized
A professional jeweller can resize rings up to two sizes up or down. It's important you don't alter any further than that, though, as this could compromise the ring's integrity.
Luckily, with 7879, you needn't have to have your ring resized. Our standard returns policy covers you for 30 days, giving you ample time to try your chosen ring on and see how it fits. So long as the item is unused and in original condition, you'll receive a full refund of the price you paid at purchase, allowing you to order a new ring with peace of mind.
Aside from a ring not fitting perfectly on arrival, we understand there are a few other reasons why you might want to get your 7879 pieces resized. If you gain or lose a lot of weight for example, or if you want to pass your investment rings onto a loved one.
In these circumstances, you could consult a different jeweller, or you could simply sell the ring back to us or exchange the product via your portfolio. In doing this, you'll receive the current market rate and you'll have a free choice of any of our other designs.
Extra ring sizing tips
Ok, you're almost ready to browse our solid gold and platinum rings. Before you do, let's recap with a spark notes version of this guide. Here's 5 top tips for finding your perfect ring size measurement:
Warm weather can make your fingers well, whilst cold hands actually shrink. Bear your temperature in mind to ensure it doesn't affect your sizing. The evening is the best time to measure your finger, as this is when it's at its largest. Measure your finger at least 3 times to get an accurate size reading.
Wider bands fit tighter than dainty styles. Consider sizing up if you're looking at chunkier designs. Still uncertain? Reach out to our customer care team before you order for extra peace of mind.